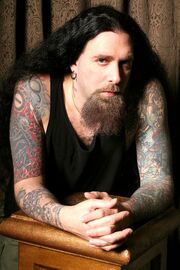 Josh Silver (born November 14, 1962) was a keyboardist for the now permanently defunct band Type O Negative. He also performed backing vocals, organ, synthesizer, samples and effects in select Type O songs. As a background info, Silver helped Peter Steele to form the short-lived band Fallout a decade before the formation of Type O Negative. After the breakup of Fallout, he formed the hard rock band Original Sin before he helped Steele to form Type O Negative (then called Repulsion).
Ad blocker interference detected!
Wikia is a free-to-use site that makes money from advertising. We have a modified experience for viewers using ad blockers

Wikia is not accessible if you've made further modifications. Remove the custom ad blocker rule(s) and the page will load as expected.