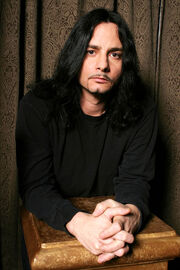 Kenny Hickey (born May 22, 1966) was a lead guitarist for Type O Negative that was permanently disbanded due to death of Peter Steele. He also performed additional/backing vocals in select Type O songs. Hickey was a childhood friend of the Type O Negative members including Steele, growing up in the same neighborhood in Brooklyn as the band members. As a background info, Hickey was the vocalist and guitarist for the band Seventh Void, and the touring guitarist for Danzig.
Related link
Edit
Ad blocker interference detected!
Wikia is a free-to-use site that makes money from advertising. We have a modified experience for viewers using ad blockers

Wikia is not accessible if you've made further modifications. Remove the custom ad blocker rule(s) and the page will load as expected.